From the press release at Singing News: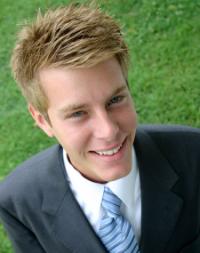 Nashville, TN – Crossroads recording artist, Tribute Quartet, is pleased to announce the addition of eighteen-year-old Riley Harrison Clark as its new tenor. Riley is originally from Fairland, Okla., and is a graduate of the Steve Hurst School of Music. Riley replaces Brian Alvey, who left the group to accept a position in marketing and promotions.

Group manager Gary Casto says, "We are absolutely thrilled to have found a wonderful Christian young man to join Tribute Quartet. He brings to the group a strong and natural tenor voice that we know our fans are going to love. In the short time I've known him, Riley has shown maturity and spiritual character, as well as a love for people. We believe his passion fits perfectly with the mission and message of our group, as well as all of southern gospel music. Josh Singletary, Dennis Dugger, and I cannot wait to introduce Riley to our fans across the country."

Brian Alvey leaves Tribute Quartet with the blessing of Gary as well as the other group members. "For the past two years our tenor vocalist has done an outstanding job not only as a singer, but also as a musician and song writer," Gary says. "He leaves us with a spotless record of service and our best wishes for much success in his future career. The Bible says to everything there is a season, and during Brian's season with Tribute, he managed to make many fans and friends who I know join us in our support of Brian and his future endeavors."

Riley joins Tribute Quartet just as it is gearing up for a busy summer and fall tour. Make your plans to find Tribute in concert soon and welcome Riley to the wonderful world of Southern Gospel Music. For more information on Tribute Quartet, visit its website at www.tributequartet.com. Tribute is booked exclusively by The Harper Agency, www.harperagency.com.
Count me in the camp of those eager to hear the new tenor. It will be interesting to see whether he possesses a vocal quality similar to that of either of Tribute's previous tenors, Jacob Kitson & Brian Alvey, or if he will bring something entirely different to the table. A hire of such young talent is enough to catch my attention to start with; obviously, he caught Gary Casto's attention as well.
Looking forward to hearing how the group will sound.
Update: Hat tip goes to Daniel Mount (and NewSoGoFan as well!) for being the first to post this video of the new tenor in a solo appearance.
Even though he's not singing in tenor range for this song, I'm already looking forward to hearing his upper range with Tribute. What intrigues me most is the amount of maturity and control he has in his voice for such a young singer. Looks like Gary Casto made a great hire.